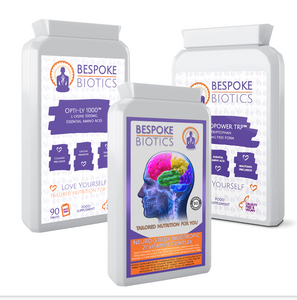 Neuro-Study Triple Pack: The Ultimate Exam and Learning Season Solution

Do you struggle with exam stress and wish for a natural way to improve your focus and concentration while studying? Look no further than the Neuro-Study Triple Pack! This pack includes our best-selling Neuro-Study nootropic blend, combined with the added benefits of lysine and L-tryptophan boosters, to help you tackle exams with confidence.
👍Introducing the Neuro-Study Triple Pack: The Ultimate Solution for Exam Stress
The pack includes a bottle of Neuro-Study Nootropic Supplement, L-Lysine, and L-Tryptophan
Perfect for students looking to improve their cognitive output, focus, memory, and exam results
The combination of 21 different vitamins and nutrients work together for maximum effect
👍How the Triple Pack Reduces Exam Stress
A study found that a combination of L-tryptophan and L-lysine reduced anxiety and stress in college students during exam time (1)
L-lysine has been shown to improve blood pressure and reduce anxiety in people with hypertension (2)
L-tryptophan has been found to be effective at reducing anxiety in people with anxiety disorders (3)
👍Key Benefits of the Neuro-Study Supplement
Expertly blended formula containing 21 different legal and safe botanical and nutritional extracts
Boosts cognitive output and performance
Improves mental clarity, energy, focus, and memory
Supports alpha brain wave production for calmness and alertness
Energizes the body and mind for people of all ages
Improved bioavailability and absorption for maximum benefit
Contains specially chosen vitamins, minerals, amino acids, and botanicals for brain support🇬🇧UK made to GMP standard and ISO 9001 quality assurance
👍Key Benefits of L-Lysine and L-Tryptophan
Reduces anxiety and stress during exam time
Natural solution for reducing exam stress
👍Take Control of Exam Stress
Don't let exam stress get the best of you
Incorporate L-lysine and L-tryptophan into your routine
Try other stress-reducing strategies, such as getting enough sleep, exercising, eating a healthy diet, and finding time to relax
You'll be on your way to success in no time! 
A POWERFUL SYNERGISTIC FORMULA. Neuro-Study nootropic formulation contains over 21 different legal & safe botanical & nutritional extracts. Our nootropic supplement helps boost cognitive output & performance. The individual ingredients work together to give you the greatest effect. The balanced formula promotes improved mental clarity, energy, focus & memory.
BOOST ALPHA BRAIN WAVES. Alpha waves are seen to be preeminent during quietly flowing thoughts — mental flow states — and in some meditative states. We've included ingredients such as L-Theanine, and Ginkgo Biloba, which work to improve blood flow to the brain, promoting alpha brain wave production. Alpha waves support mental coordination, calmness, alertness, mind/body integration and study.
ENERGISE YOUR BODY MIND WHATEVER YOUR AGE.

 

L-Tyrosine, Bacopa Monnieri,  Phosphatidylserine and Betaine

 provide mental boost while neuroprotective factors  in Choline Bitartrate, Alpha 

Lipoic Acid

 

Lecithin

 act to improve mental acuity over time. 

IMPROVED BIOAVAILABILITY & ABSORPTION. We've included Bioperine a optimised Black Pepper Extract — to act as an absorption-enhancer, improving the supplements' overall bioavailability. And we use quality capsules to deliver the nutrients.   This ensures that you get the most benefit from every serving.
Expertly blended brain support supplement combining specially chosen vitamins, minerals, amino acids and botanicals.


Zinc & Iron contribute to normal COGNITIVE FUNCTION, while Vitamin C, Vitamin B12 & Thiamine contribute to normal functioning of the nervous system. Meanwhile, vitamin C, Thiamine & Folate all contribute & normal PSYCHOLOGICAL function.

Pantothenic acid contributes to normal MENTAL PERFORMANCE and normal synthesis and metabolism of steroid hormones, vitamin D and some neurotransmitter.

Vitamins C & E and Zinc are antioxidants that contribute to the protection of cells from oxidative stress. Folate also contributes to normal homocysteine metabolism.

UK MADE – Bespoke Biotics products are manufactured in the UK to GMP code of practice and ISO 9001 quality assurance. This guarantees that you receive consistently high quality products. We have a no quibble money back guarantee policy so you can improve your health with no risk
Key Benefits
Expertly blended to help maintain healthy brain and cognitive function.

Contains specially chosen brain nutrients and selected essential vitamins and minerals.

Helps maintain healthy and normal brain and cognitive function.

Manufactured in the UK to GMP Standard.

Suitable for vegetarians
Bespoke Biotics Neuro-STUDY Capsules are manufactured in the UK to GMP code of practice and ISO 9001 quality assurance certification. 
These manufacturing procedures ensure that the basic manufacturing practices and prerequisites necessary for product quality and safety are being followed. This goes above and beyond what is required so that we can guarantee you receive consistently high quality products.
L-lysine Opti-Ly 1000  is an essential amino acid that is necessary for the proper growth and development of the human body. It is not produced naturally in the body and must be obtained through the diet or through supplements. L-lysine is thought to have several potential health benefits, including the ability to help reduce anxiety and stress.
L-tryptophan Noorpower Trp is another amino acid that is involved in the production of serotonin, a neurotransmitter that is involved in mood regulation. L-tryptophan supplements have been shown to be effective at reducing anxiety and stress in some people.
Directions
Ingredients
Each 2 capsule serving provides:
Vitamin C 80mg (100% NRV)
Iron 10mg (71% NRV)
Vitamin E (d-Alpha tocopherol) 8mg (67% NRV)
Pantothenic Acid (Vit B5) 6mg (100% NRV)
Zinc 5mg (50% NRV)
Vitamin B1 (Thiamin) 2mg (182% NRV)
Folic Acid 200µg (100% NRV)
Vitamin B12 (cyanocobalamin) 2µg (80% NRV)
Also provides:
Ginkgo Biloba Extract 40mg 50:1 (providing equivalent 2000mg), Choline Bitartrate 300mg, Betaine (trimethylglycine) 100mg, L-Carnitine 100mg, Lecithin 5mg 20:1 (providing equivalent 100mg), Bacopa Monnieri 100mg, L-Theanine 50mg, L-Tyrosine 50mg, Alpha Lipoic Acid (ALA) 50mg, Soy Isoflavones providing 40mg, Phosphatidylserine 40mg, Co Enzyme Q10 30mg, Black Pepper Extract (as Bioperine®) 5mg, Hydroxypropyl Methylcellulose (HPMC) Capsule Shell.
L-Tryptophan 220mg, Bulking agent: Microcrystalline cellulose, Anti-caking agent: Magnesium stearate, Vegetable HPMC capsule.
L-Lysine 1000mg. Other Ingredients: Magnesium Stearate, Microcrystalline Cellulose 101
*NRV = Nutrient Reference Value, µg = microgram, mg = milligram.
Cautions
Always consult your health practitioner before taking nutritional supplements, especially if you are taking medication or are under medical supervision. Not recommended for use by pregnant or breastfeeding women. You should not take supplements as a substitute for a varied balanced diet or healthy lifestyle. Store in a cool dry place, out of reach of children.
Allergies/Intolerances:
Any allergens contained in this product are shown in the ingredients list in bold.
According to our suppliers of raw material this product is free from: gluten, wheat, dairy, eggs, fish, crustaceans, molluscs, soy, sesame, celery, mustard.**
** Although rigorous precautions are taken to prevent any cross-contamination, this product is manufactured in a facility that also handles allergy-based materials such as nuts, seeds, milk, egg, cereals, soya, mustard, celery, fish, crustaceans and sulphites.