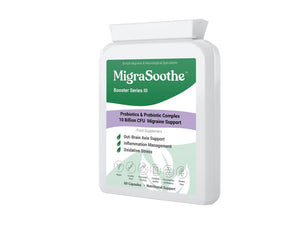 For centuries, fermented foods like yogurt and kefir have been consumed for their health benefits, but now potential of probiotics to improve gut health and prevent or treat a range of health conditions, including migraines has been discovered. Each bottle contains 60 capsules, with a recommended dosage of 1 capsule per day. Suitable for Vegans & Vegetarians.
MIGRAINES & PROBIOTICS:

Research suggests that a healthy gut may reduce the frequency of migraines. For example a 2018 study published in the journal Cephalalgia found that people with migraines had a lower diversity of gut bacteria compared to those without migraines. These studies and others suggest that improving gut health through probiotics and other interventions may have a positive effect on migraine symptoms. 🧠

MIGRASOOTHE HIGH STRENGTH:

Our high-strength vegan-friendly Acidophilus Live Bacteria Complex contains 10 billion CFU per capsule. Targeted release capsules protect the bacteria from stomach acid during transit so that they can be released where intended. 💪

PREBIOTICS ENHANCEMENTS:

Bacteria thrive on special fibers called prebiotics. Our complex has been enhanced by F.O.S for ultimate flora support. FOS (Fructo-oligosaccharides) is non-digestible fiber that helps increase the 'good bacteria' in the colon, making this supplement more effective. 🌿

EFFECTIVE COMBINATION:

Our product contains 6 specially chosen bacterial strains that can colonize multiple locations within the body at one time. Each bacterial strain contains 1.66 billion CFU of Bifidobacterium animalis, Bifidobacterium bifidum, Bifidobacterium longum, Lactobacillus acidophilus, Lactobacillus rhamnosus, and Streptococcus thermophilus. 🤝
NOTE: If being used for migraine reduction, this product should be taken in conjunction with MigraSoothe Original, MigraSoothe +Herbs, or MigraSoothe Pro Plus. These products contain NHS recommended ingredient of Riboflavin for migraine reduction. 
DAIRY FREE
Suitable for Vegans & Vegetarians
60 Capsules - 10 Billion cfu per capsule
Ingredients:
Probiotic Blend 10 billion cfu per capsule: 1.67 Billion cfu per bacterial strain of Bifidobacterium animalis, Bifidobacterium Bifidum, Bifidobacterium Longum, Lactobacillus Acidophilus, Lactobacillus Rhamnosus, Streptococcus Thermophilus.
1 capsule typically provides:
Fructooligosaccarides (FOS) 40mg
Active Live Culture Blend 10 Billion CFU
including:
Bifidobacterium lactis
Bifidobacterium bifidum
Bifidobacterium longum
Lactobacillus acidophilus
Lactobacillus casei rhamnosus
Streptococcus thermophilus
Directions:
Take 1-2 probiotic capsules twice a day with food, preferably with a meal. Do not swallow capsules with hot drinks as heat kills bacteria. Does not require refrigeration due to innovative encapsulation.